Who is pushing you, and when I say "pushing you," I mean challenging everything you do?
If we think for a moment we're going to become better, then we have to be willing to be challenged by others. We have to be willing to be pushed by others and, in turn, to push ourselves to do things we wouldn't normally do.
This past year, I've been spending a lot of time with super high-achievers. These are the people who set goals and blow them out of the water. A few weeks ago, I spent a Sunday afternoon in Philadelphia with 4 of my high-achieving friends — Gerhard Gschwandtner, Anthony Iannarino, Jeb Blount and Mike Weinberg. (I suspect you recognize their names, as each one has written a best selling book and is simply brilliant.)
Four of us had no other reason to travel to Philadelphia other than to connect with the others. You might say it was stupid to take a Sunday afternoon away from home, spend money on flights, hotels, etc., all for a 4-hour meeting with business associates.
The 4 hours we were together, not to mention another hour traveling back to the airport together, was simply time being "pushed."   There's something strange that happens when you connect with brilliant people…brilliant ideas come out of it.
The late Jim Rohn said "You are the average of the five people you spend the most time with." Why is this? The reason is simple!  Ideas and information from each person will rub off on the others. When you put smart people together, it's only natural for even smarter ideas to emerge.
Who is challenging you?
I value the time I get to spend with high-achieving people, and I look for oppotunities to spend time with them. It's why I spent the time and money to fly from Omaha to Philadelphia for a Sunday afternoon meeting. When we invest our time to seek out others, we can't help but in turn challenge ourselves.
What ideas did we discuss? They ranged from exchanging personal productivity ideas to what books we're reading to what new projects we're looking to undertake.   Throughout the entire conversation, the dialogue was strong and it was not always 5 people in agreement. We had plenty of counter arguments, but through it all we were learning.
My personal goal for the next year is to push myself to look at things differently and to not be content with status quo. Most of all, I'm never going to let time be a limiting constraint to me. What does this mean? Simply I must avail myself of more resources to allow me to increase the return on investment I receive from each day.
Are you ready to have your mind blown? During our meeting in Philadelphia, the cameras were rolling, and in the coming months, the folks at Selling Power and, in particular, Gerhard Gschwandtner, will share video segments of our discussion. I'll be sure to let you know when the videos become available or you can check out www.SellingPower.com.
As you prepare for 2017…   Prospecting today requires different language approaches and strategies! I've helped companies create powerful outcomes through interactive keynotes and workshops, delivering specific objection language and strategies.
Because I customize to your team's uniqueness, you'll find the team will continue to leverage these insights long after I'm gone. Let's talk about how you get the outcomes you need. Call me at 402.445.2110. In the meantime, check out my best-selling book, High-Profit Prospecting.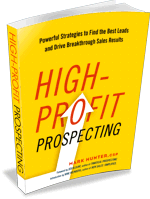 Copyright 2016, Mark Hunter "The Sales Hunter." Sales Motivation Blog. Mark Hunter is the author of High-Profit Selling: Win the Sale Without Compromising on Price and High-Profit Prospecting: Powerful Strategies to Find the Best Leads and Drive Breakthrough Sales Results.