Want to generate good dialogue with your customer?
Start viewing yourself as your customer's R&D department. Do this and they will increasingly rely on you for the helpful information you bring them about their company and industry.
Check out the video to see what I mean: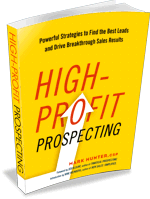 Copyright 2017, Mark Hunter "The Sales Hunter." Sales Motivation Blog. Mark Hunter is the author of High-Profit Prospecting: Powerful Strategies to Find the Best Leads and Drive Breakthrough Sales Results.