Who are you listening to? This is a vital question if you want to understand how to build tremendous sales motivation in your day.
I challenge you this week to start ignoring the negative voices.  Too many salespeople allow the negativity of people around them to take a toll on their level of achievement and motivation.  It doesn't have to be this way.  You have a choice to ignore the negative voices.
Even better, gravitate toward the positive people who will fuel your pursuit of excellence and success.
Check out this video to see what I mean:
[responsive_video type='youtube' hide_related='1′ hide_logo='0′ hide_controls='1′ hide_title='0′ hide_fullscreen='0′ autoplay='0′]https://www.youtube.com/watch?v=TW2FGlP8QPo&feature=youtu.be
And be sure to check out my new book, High-Profit Prospecting. Here's the link to order your copy now.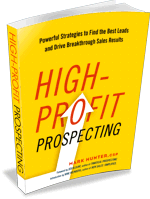 Copyright 2016, Mark Hunter "The Sales Hunter." Sales Motivation Blog. Mark Hunter is the author of High-Profit Selling: Win the Sale Without Compromising on Price and High-Profit Prospecting: Powerful Strategies to Find the Best Leads and Drive Breakthrough Sales Results.