When was the last time you thought about what success means to you? Have you challenged yourself lately to up the ante and achieve greater levels of success?
This week think about your definition of success and how you could and should re-define it.
Check out the video to see what I mean: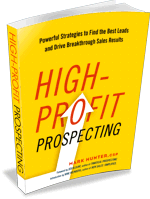 Copyright 2017, Mark Hunter "The Sales Hunter." Sales Motivation Blog. Mark Hunter is the author of High-Profit Prospecting: Powerful Strategies to Find the Best Leads and Drive Breakthrough Sales Results.