It's summer and that means vacations! When you go on yours, don't use the "out-of-office" setting on your voicemail and email.
You want to seize opportunities to monitor your voicemail and email for potential leads!
Check out the video to see what I mean:
For the month of June, Amazon has the Kindle version on sale for only $2.99! Grab it today and don't forget to leave a review on Amazon.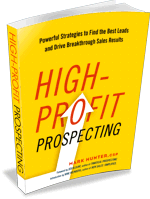 Copyright 2017, Mark Hunter "The Sales Hunter." Sales Motivation Blog. Mark Hunter is the author of High-Profit Prospecting: Powerful Strategies to Find the Best Leads and Drive Breakthrough Sales Results.