When a call goes badly, what do you do next?  My suggestion is that you immediately call your best customer!
By calling your best customer, not only will you boost your confidence and motivation, you will also potentially have the opportunity for more business.  You both will be encouraging each other, which is exactly what you need after the previous discouraging call.
Check out the video to see what I mean: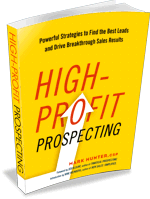 Copyright 2017, Mark Hunter "The Sales Hunter." Sales Motivation Blog. Mark Hunter is the author of High-Profit Prospecting: Powerful Strategies to Find the Best Leads and Drive Breakthrough Sales Results.