Ask yourself that question and, more importantly,  ask yourself why you answered the way you did.
Each week I receive phone calls and emails from salespeople and sales managers who say they aren't hitting their sales goals.
You will never hit your sales goals if you don't have enough in your pipeline to close, and it all starts with how much prospecting you're doing. I see it in my own business — if I'm not prospecting today, I can count on the business slowing down six months from now.
Watch this 13-second video where I share this concept:
Prospecting cannot be an activity that is only done when it is necessary or worse yet when you're caught up with everything else.
If you allow yourself to fall victim to that approach, you'll fail. To overcome the problem, you must see prospecting not as an activity, but as a lifestyle.
Each day we do certain things. Regardless of who we are, we eat, sleep, breathe, and so forth. These things are not just activities. They're more — they're woven into our daily lifestyle.
You have to make prospecting the same as breathing, eating, and showering.
When something is part of our lifestyle, we just do it without thinking. In fact to not do it would cause us to think.
Turning prospecting into a lifestyle begins with a deep understanding that what you're doing is not merely selling, but rather you're helping others.
I've said it before and I'll say it again here — sales is about helping others see and achieve what they didn't think was possible.
View prospecting as the start of you being able to help others. My goal each day is to influence and impact others in a positive manner and yes, that means prospecting.
When you view prospecting not as an activity but as a lifestyle, you will in time find yourself not having to deal with sales slumps others face.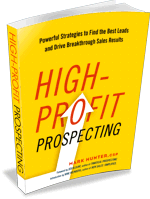 Copyright 2017, Mark Hunter "The Sales Hunter." Sales Motivation Blog. Mark Hunter is the author of High-Profit Prospecting: Powerful Strategies to Find the Best Leads and Drive Breakthrough Sales Results.