This week all of us had a front-row seat watching leadership unfold in the US Presidential election. Through it all, I'm reminded of an old saying: "Humility in success, dignity in defeat."
As leaders we're challenged to show respect to others in good times and bad, whether we're on the winning or losing side.
The best leaders have an uncanny ability to get more out of people than others would be able to, and I feel it is all wrapped around the ability to respect each person, regardless of where they might stand or how they might perform.
Winning and losing each can bring out the dark side or bright side in people, and each person responds differently. I certainly want to give due credit to those who win, but as leaders it's in our best interest to display a level of personal humility.  The same goes for those who lose. A salesperson who fails to close a large deal might be seen as a loser, but they still need to be respected.
Leaders know there is never a single battle to be won or lost. Leaders know each day there are new battles to be fought, and the attitude people take into the battle will impact the results.
Next time you have success, celebrate it, but do so with a sense of humility, as you never know what tomorrow might bring. The same applies to losing. Yes, it stings, but it also requires you to not disrespect  those people involved.
Leadership is as much about maximizing tomorrow as it is about benefiting from today, and it starts with your humility and your respect.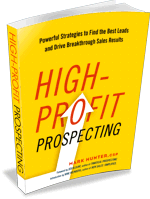 Copyright 2016, Mark Hunter "The Sales Hunter." Sales Motivation Blog. Mark Hunter is the author of High-Profit Selling: Win the Sale Without Compromising on Price and High-Profit Prospecting: Powerful Strategies to Find the Best Leads and Drive Breakthrough Sales Results.