I was struck by a study I just read, "Global Leadership 2015-2016 Study." What it says is really keeping CEOs up at night.   You can read an overview at this link.
Here's an excerpt from the article:
The short answer: Leaders just aren't ready to lead. In the research, CEOs continue to acknowledge with a majority vote that "human capital" remains their top challenge.
Four of the top 10 human capital strategies CEOs selected as crucial for their companies' success are focused on, what else…leadership. Among them:
Improve leadership development programs
Enhance the effectiveness of senior management teams
Improve the effectiveness of frontline supervisors and managers
Improve succession planning
If it is people issues that are keeping CEOs up at night, what is keeping you up? I'm struck and, at the same time, pleased with the focus on people. The biggest shortcoming in an organization is the inability to harness full potential from the employees. Heck, it's not full potential — 50% potential would be a win for most companies.
Unless you're the CEO of your company, this list is about you. What are you doing each day to improve communication and develop people?   Companies are afraid of training people because they'll leave, but let's not forget the great quote by Zig Ziglar:
"The only thing worse than training an employee and having them leave is to not train them and have them stay. All sales … Building people and transforming lives is what we do."
Training and leading are not options; they are a requirement. As we move into '17, what will you do to increase the selling skills of your team? Give me a call or email me and let's discuss. Everything I do is about getting sales teams to the next level, so it only makes sense I help your team out too.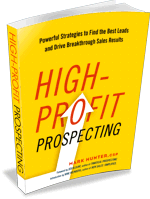 Copyright 2016, Mark Hunter "The Sales Hunter." Sales Motivation Blog. Mark Hunter is the author of High-Profit Selling: Win the Sale Without Compromising on Price and High-Profit Prospecting: Powerful Strategies to Find the Best Leads and Drive Breakthrough Sales Results.