Being a sales leader is something we all desire to be. I don't think anyone who is committed to being in sales wants to be seen as a sales follower. Can you imagine walking up to a customer and saying, "Hi, I'm your new sales follower." I can only imagine how the customer would respond. Your job, regardless of your title, is to be seen as sale leader.
A few years ago, I was working with a sales team in Trinidad. As we dug into a particular issue, it set me on a mission to simplify and narrow things down. After that meeting, I created the 9 traits of a sales leader.
Great sales leaders:
1. Demonstrate trust
2. Create a motivating environment
3. Set and communicate clear goals and objectives
4. Support and empower others
5. Commit to follow-through and execution
6. Listen attentively
7. Remain vision focused
8. Foster a team environment
9. Focus on people not tasks
To make it easy for you, I've created the 9 Attributes of a Great Sales Leader info-graphic. I am happy to share.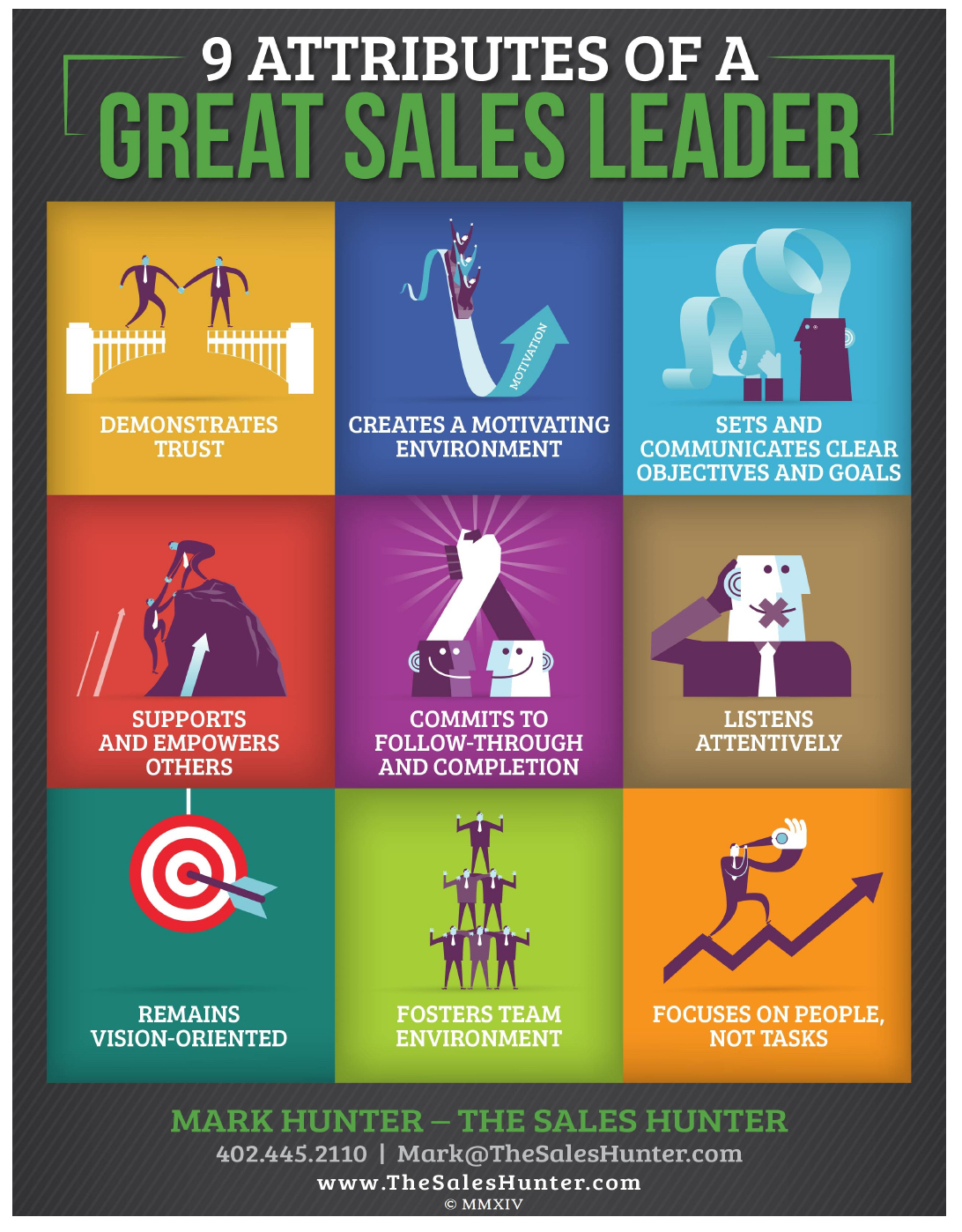 Take a few minutes to review the list and put yourself in the shoes of your customer. Ask yourself:
" Would I appreciate having salespeople call on me to exhibit these traits?"
"As a salesperson, would I like my manager to exhibit these same traits?"
Sales at all levels is about leadership. This coming year, I'm committing myself to be more focused than ever on these. Leadership is a journey; it's never a destination for one simple reason— it's about people. People are anything but consistent.
In the months to come, I'm going to challenge you to take one of the 9 traits and focus in on it. Work to define what it means to you and to those you lead. The world is crying out for leaders who value others. As you take time to reflect on these traits, you will notice a common point in all nine —people. Leadership is about being 100% focused on others. How focused are you on others?
One of the best ways to be focused on others is to ensure you are fully prepared. This is one of the main reasons I've been talking so much about my Master Class on Setting Goals, Achieving Goals, and Mapping Your Plan for Success in the New Year. I'm encouraging you to take advantage of this valuable information now to help set you up for your best in the new year. To gain access to the Master Class content and ensure you are preparing yourself for 2019 and beyond, check out the Master Class: https://lp.thesaleshunter.com/order-mc
Are you planning a sales kick-off meeting for 2019? If so, give me a call and let's talk about how I can help your team not just achieve 2019 goals, but blow past them. I still have some available dates, so call and we will make it happen. Sales is not a solo activity. Sales is a team sport. Let's make your team the best it can be. You can call me at 402-445-2110 or email me: Mark@TheSalesHunter.com.
Don't forget a coach can help you excel in your sales career. Invest in yourself by checking out my coaching program today!
Copyright 2018, Mark Hunter "The Sales Hunter." Sales Motivation Blog. Mark Hunter is the author of High-Profit Prospecting: Powerful Strategies to Find the Best Leads and Drive Breakthrough Sales Results