As many of you know, I am a big advocate for continually learning.  I believe it is the only way we keep our sales skills sharp and our awareness high on new opportunities that may come our way.
As a leader, how strong of a learning advocate are you for the people you lead?
Are you a big fan of them having room in their schedule to learn? This isn't always about structured seminars and webinars (although those are valuable too).  It also is about simply creating an environment where continual learning is held as a worthy endeavor.
Encourage and equip your team members to share articles, insights and tools with each other.
At each team meeting, give a brief instruction on something that could help the team achieve greater success. Even more effective is if you ask each team member to rotate being responsible for this aspect of team meetings throughout the year.
Research and invest in the right tools that make learning easy. Challenge your team to find websites, apps and other resources that provide quality and useful information.
No, you don't want them to spend their day glued to the internet. Of course not. But you DO want them to be gleaning information that will not only help them, but also help them help their customers have better outcomes.
Set the standard within yourself.  If you are committed to broadening your knowledge and acquiring information that furthers your success, then your team will likely follow suit.
The culture you help establish as a leader can have an exponential effect on the level of success your team members achieve.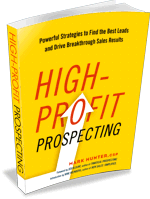 Copyright 2017, Mark Hunter "The Sales Hunter." Sales Motivation Blog. Mark Hunter is the author of High-Profit Prospecting: Powerful Strategies to Find the Best Leads and Drive Breakthrough Sales Results.