Without a doubt, the number one reason people don't want to get into sales is because they don't like rejection, and the thought of having to prospect makes their stomach curdle.
Call me weird or call me an outlier, but here are my 10 reasons why I'm proud to have the privilege to prospect. (I'm not a freak of nature. In fact, early in my life I too was petrified to death with the thought of having to prospect. But that changed for me and I believe it can change for you.)
Here are my 10 reasons why I'm proud to be in sales and to be able to prospect:
1. I get to help others achieve something they didn't think was possible.
2. I get to meet new people. Yes, some people I don't care for, but along the way I've made some incredible friendships that have lasted a lifetime.
3. I help people solve problems that go beyond just what I sell.
4. Each day is different. And each contact is different, meaning each day brings its own unique opportunities.
5. If I get rejected by a person, I know it stays right there. The next call I make is in no way connected to the previous call, which makes each call a new opportunity.
6. I'm in control. Sure, I've got things I have to adhere to, but when it's just me and the prospect, it's all up to me to create the outcome.
7. I'm continually learning. There isn't a day that goes by when I don't learn something new. The beauty of what I learn is many times I get to apply it right away with the next person I come in contact with.
8. I don't have any limits on what I can achieve. This job doesn't have upside barriers. The only barriers to success are what I put on myself.
9. In my job I am continually encountering new opportunities both professionally and personally. My success has others wanting me to come to work for them. My success has others looking to connect with me with other business opportunities.
10. I'm motivated by myself and what I achieve. At the end of each day, it's my own level of success that allows me to motivate myself for the day to come and to achieve an even higher level of success.
Sales is more than a job. It's a lifestyle! The ability to help others is the number one reason I love what I do.
If you're in sales just for the money, you're in it for the wrong reason. Yes, you can make a lot of money, but it's only a numeric scorecard. When you help others achieve an outcome they didn't think was possible and you're jazzed by that, then you are in sales for truly the right reason.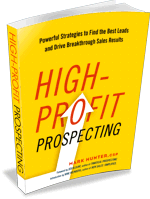 Copyright 2017, Mark Hunter "The Sales Hunter." Sales Motivation Blog. Mark Hunter is the author of High-Profit Prospecting: Powerful Strategies to Find the Best Leads and Drive Breakthrough Sales Results.