Challenge yourself this week to not rely so heavily on email!
Pick up the phone and call that prospect or customer you want to reach.  Don't let yourself make excuses for not calling!  There is no substitute for conversation.
Check out the video to see what I mean: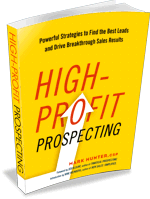 Copyright 2017, Mark Hunter "The Sales Hunter." Sales Motivation Blog. Mark Hunter is the author of High-Profit Prospecting: Powerful Strategies to Find the Best Leads and Drive Breakthrough Sales Results.