Is your network causing you to rise, fall, or is it nonexistent?
Who doesn't wake up in the morning and say, "Man, I want to be in the president's club. I want to be at the top of the food chain. I want to be the number one person on my sales team."
Surely you don't wake up and say, "Oh gee, I want to be average." No, you want to be great. Because as long as you have to work, why don't you work to become excellent, not average. Anybody can do that. 
I want you at the top. 
And what I'm laying out this month are the five elements you have to master to become a top 1% salesperson. I'm lifting a lot of this content from my masterclass–enrollment is open now! Don't miss out.
Read a sneak peek of Element 1: Time.
Read a sneak peek of Element 2: Mind.
1. Nurture your network. 
Your network is not something you abuse. Don't just use your network. Instead, take care of it in a way that is mutually beneficial. 
Here's what I've found: The more you put into your network, the more you'll get out of your network. It's really a direct correlation. 
Read more about how to nurture your network.
2. Treat it like a bank account. 
It is not the kind of account where. "If I put in on Monday, I can take out on Tuesday." 
No, your network is much like a savings account.
You can't withdraw money from the bank until you first put money into it. 
3. Diversify your network.
Your network has several different elements. 
It's composed of subject matter experts–people who you can call on to be able to get questions answered.I have subject matter experts in my life and I love talking with them because they give me valuable insights. 
There's another portion of your network that are your customers. These are raving customers and raving fans who refer you to others, who connect you, who talk about you, who open up other doors for you. 
What about the ones who you learn from and support, and they support you? This is your core group, perhaps your mastermind group.
And there's a final element of your network that are just connected people. They're outside your core group, but they're inside your sphere in some way. They're not in your industry, and really don't do what you do, but are people of influence. 
Top performing salespeople have people in each one of those circles. And they nurture each one of them, too. 
4. Be generous with referrals. 
I love being able to pick up the phone, call somebody, and get some information. But you know what I love more? I love being able to pick up the phone and say, "Hey, I've got somebody I want to introduce you to." That's cool. 
I love being able to have an email that comes in from somebody that says, "Hey, so-and-so said I needed to call you." Referrals from my network are awesome. I love that. But I also love being able to refer somebody I know to somebody else. 
5. The bigger the better. 
Your network is connections. 
I'm going to use the example of email. When there was only one person in the world who had an email address, it wasn't very useful. But now that everybody does, they can network. It was the same for social media.
The bigger your network, the more valuable your network becomes.
6. Invest in a small core group.
Here's where it breaks down. Top performing salespeople know that it's critical to have a small core group. (This is a major difference between top performing and average.)
That small core may be five to twenty-five people who they really invest in. They are contributing. They are helping them. It's about doing everything possible to help them succeed. The great thing is, they're reciprocating!
Therefore, when you have five to twenty-five people that you're connecting back and forth with and you're helping, it's amazing how much more successful you become. 
Not only will you achieve your goals, but you'll watch these other people achieve their goals. I happen to be part of a great network of people, solopreneurs like me who are in the world of speaking and training and authoring books. And I love seeing them win.
7. Have a mentality of abundance.
The average salesperson looks at the success of others and says, "Oh, I don't want them to win because they're taking that victory away from me."
On the contrary, the top performing salesperson doesn't see any scarcity, but abundance. 
When my peers win, or other people I get to work with, that makes me excited because a rising tide lifts all boats. And I know as they become more valuable, I'll become more valuable; we help each other. 
In last week's blog,  I talked about your mind. What's interesting is if I'm surrounding myself with positive people, that crowds out the negativity. 
What else does that do? It really helps me be more efficient with my time because I'm really connecting with people who have a better use of their time. It's more valuable.
Go deeper on all of these concepts in this month's masterclass: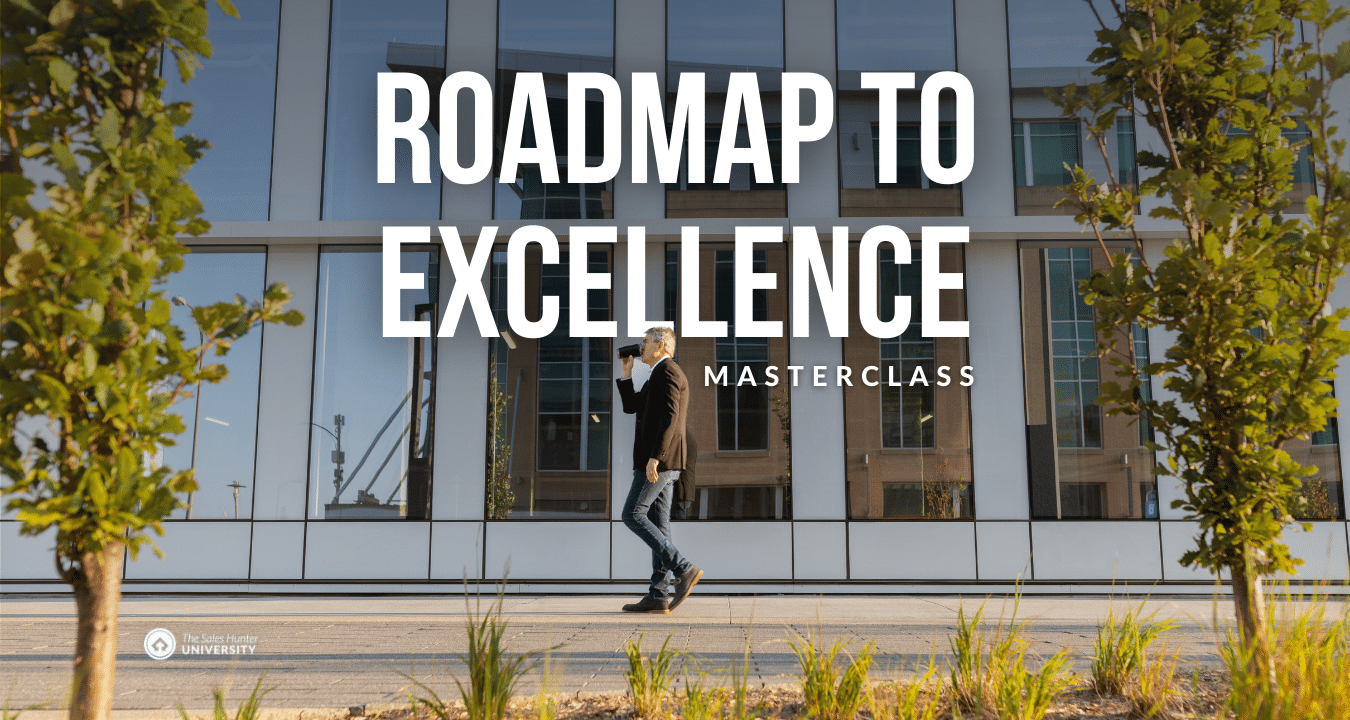 Want to learn about all five elements, but on a deeper level?
Buy Roadmap to Excellence: How to Become a Top 1% Salesperson for $59, enrollment is open now!
Act now and get a bonus offer, an exclusive invitation to my webinar all about the Inside Secrets of Top Performers. What is it that they wouldn't want you to know? Get the masterclass, then join me on April 28th at 1 p.m. CT.

This week on The Sales Hunter Podcast…
Have  you ever been evaluated unfairly due to a metric meant to measure your success? There are plenty of sales managers out there measuring things that just don't make sense. 
This week's episode brings Colleen Francis, author of Right on the Money to the conversation. Colleen and Mark discuss how many options are too many for a customer, and why some salespeople get so desparate they offer things they shouldn't. 
Listen on Thursday mornings for new episodes, and don't forget to rate and review!