I've seen enough stupid emails, and what drives me nuts is people keep sending them!
Just recently I got another one that said, "I've sent you 5 emails. Why haven't you responded?" Hello!  Maybe the reason I haven't responded is because I'm busy and what you're offering, I don't want!
The number of bad emails far outweighs the good ones.
In response to the screams for help, on Wednesday, Oct. 19, I am participating in what will be a very interesting event called "Rate My Pitch" sponsored by LeadIQ.
Myself and five other experts will participate in a live review of pitches and here's where it gets interesting: You can be included! Don't worry, we'll mask names, companies, etc., but think of it as the one time when you'll have a chance to get your pitch reviewed.
You've got nothing to lose and, as they say, everything to gain!
Check out the link and you'll see how to submit your pitch, but you need to do it ASAP.  The review is taking place Oct. 19 at 11 AM PDT.
YES! I Want to Know About the "Rate My Pitch" Event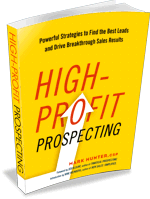 Copyright 2016, Mark Hunter "The Sales Hunter." Sales Motivation Blog. Mark Hunter is the author of High-Profit Selling: Win the Sale Without Compromising on Price and High-Profit Prospecting: Powerful Strategies to Find the Best Leads and Drive Breakthrough Sales Results.