Do you know what you need to stop worrying about?  What you CAN'T control!
Motivated salespeople don't waste energy worrying about what they can't control. They stay focused on what they can control.   You CAN control your attitude.  You CAN control your use of time.
Find the positive today!
Check out the video to see what I mean: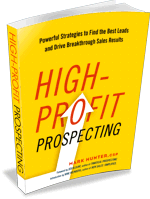 Copyright 2016, Mark Hunter "The Sales Hunter." Sales Motivation Blog. Mark Hunter is the author of High-Profit Selling: Win the Sale Without Compromising on Price and High-Profit Prospecting: Powerful Strategies to Find the Best Leads and Drive Breakthrough Sales Results.