Authenticity, transparency, social value, integrity and personal development.
There they are — the five things I believe you as an employer and leader must exhibit daily if you want to hire and retain millennials.
Don't kid yourself. You can't ignore the list, because millennials are the workforce of today and tomorrow.
During the past 15+ plus years I've been consulting and speaking in the business world, I've watched a total transformation of what employees want.
Fifteen years ago, employees weren't looking for their company to have social value in making a difference. Today it's a key differentiator.  Fifteen years ago, transparency as to how a company works wasn't even on the radar, but today people expect to know how their leaders operate.
Where did I get this list?
It's 100% from my "boots on the ground" working with hundreds of companies and meeting with thousands of employees across a wide range of industries and countries.
Many times in meetings with corporate leaders, I'll share this list and will get a response back about how they feel they're doing all of them. My response is simple: It's not what you as the leader think you're doing, but rather it's what employees SEE you doing. Big difference!
Leadership is a 24/7 lifestyle and I can't stress the 24/7 enough, because when it comes to authenticity, you can't fake it.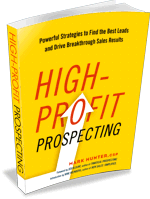 Copyright 2016, Mark Hunter "The Sales Hunter." Sales Motivation Blog. Mark Hunter is the author of High-Profit Selling: Win the Sale Without Compromising on Price and High-Profit Prospecting: Powerful Strategies to Find the Best Leads and Drive Breakthrough Sales Results.