Are you intentional about hanging out with positive people?
You have to make it a regular part of your life to associate with positive people, because the impact on your life and career will be phenomenal! This has been my experience, and I trust that it will be yours as well!
Check out the video to see what I mean: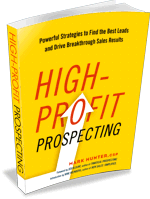 Copyright 2016, Mark Hunter "The Sales Hunter." Sales Motivation Blog. Mark Hunter is the author of High-Profit Selling: Win the Sale Without Compromising on Price and High-Profit Prospecting: Powerful Strategies to Find the Best Leads and Drive Breakthrough Sales Results.