Are you making the most of the big opportunities that come your way?
Today I challenge you to get in the game and pay close attention to the opportunities around you.  You have to be intentional, and when you are, you will realize that these opportunities are stepping stones toward success and sales motivation.
Check out the video to see what I mean: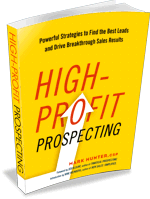 Copyright 2017, Mark Hunter "The Sales Hunter." Sales Motivation Blog. Mark Hunter is the author of High-Profit Prospecting: Powerful Strategies to Find the Best Leads and Drive Breakthrough Sales Results.