Make it a goal each day this week to reach out to a customer or prospect you haven't talked with in quite awhile.  Yes! Reach back to go forward.
Build relationships that will strengthen your sales momentum as we near the end of the year and head into 2017.
Check out the video to see what I mean: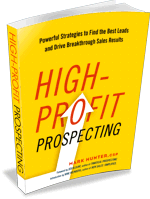 Copyright 2016, Mark Hunter "The Sales Hunter." Sales Motivation Blog. Mark Hunter is the author of High-Profit Selling: Win the Sale Without Compromising on Price and High-Profit Prospecting: Powerful Strategies to Find the Best Leads and Drive Breakthrough Sales Results.