Leaders are measured not by what they do, but by what the people they lead are able to accomplish.  We have to continually ask ourselves if we're creating value in our people.
When I mean value, I'm referring to helping those we lead to be worth more to themselves and to others based on the skill sets we're helping them develop.  If we think about it, this is the same thing we do with our customers. We help them create more value.
We create value both direct and indirect, and I believe it's important for us as a leader.  It's easy to see how we create it directly via the coaching, training and assistance we give to people.
It's the indirect that has the ability to create as much value.
People watch us and they learn from what they observe. I've always felt people learn more by merely watching their leaders than they do when their leader is teaching them.
A challenge I give to leaders is to realize the impact they have on others not just by what they say, but by what they do.
Is what your people see you do helping create more value for them?   Are you modeling integrity and authenticity in your leadership?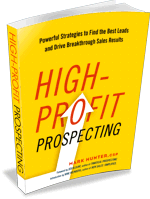 Copyright 2016, Mark Hunter "The Sales Hunter." Sales Motivation Blog. Mark Hunter is the author of High-Profit Selling: Win the Sale Without Compromising on Price and High-Profit Prospecting: Powerful Strategies to Find the Best Leads and Drive Breakthrough Sales Results.