As we near the end of the year, it seems the calendar fills up with numerous parties and events, all of which are great opportunities to network.  As good as these can be, they can take a lot of time away from other more pressing activities.
Here is my list of 10 steps to networking effectively:
1. Don't expect people to introduce you to other people if you aren't actively connecting people together.
2. Don't use a networking event as an opportunity to sell. Use it merely to connect with people on a personal/social level. Save the selling for much further down the road.
3. Look to gain one piece of personal information out of each person you meet. The personal information you gain can become the entry point you use to follow up with them later.
4. Don't make it your mission to collect as many business cards as possible. I'll take one or two new valuable connections as being worth more than dozens of business cards that don't mean anything.
5. Show interest with each person you meet. Give them eye contact and your full attention. There's nothing worse than talking with someone who clearly is more interested in seeing who they can meet next.
6. Seek out the person who is standing or seated by themselves. Nothing can be more intimidating than being alone in a group of people. You coming up to talk with them could be all they need to feel comfortable and welcome, and the result is you both will make a new connection!
7. Be the one in the group who asks questions to engage everyone.  Showing interest in others while in a group demonstrates your inclusiveness.
8. Never repeat to someone else what another person shares with you unless they've given you permission to share. Nothing worse than a person who is spreading to others information that was meant to remain private.
9. Follow up within 48 hours with people you meet. Use the personal piece of information you learned as the springboard to your follow-up phone call or email.
10. Reach out and connect with your new connections on social media if you are so inclined.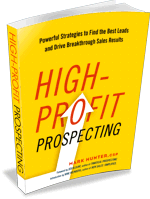 Copyright 2016, Mark Hunter "The Sales Hunter." Sales Motivation Blog. Mark Hunter is the author of High-Profit Selling: Win the Sale Without Compromising on Price and High-Profit Prospecting: Powerful Strategies to Find the Best Leads and Drive Breakthrough Sales Results.