Get started quickly Monday morning by making your first two calls to people you promised you would get back to.  You will impress them with these call backs first thing Monday morning.
You have to build techniques that get you in a groove and build good momentum for your week.  You will find that following through on follow through, particularly with the telephone, is incredibly effective.
Check out the video to see what I mean: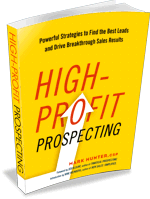 Copyright 2017, Mark Hunter "The Sales Hunter." Sales Motivation Blog. Mark Hunter is the author of High-Profit Prospecting: Powerful Strategies to Find the Best Leads and Drive Breakthrough Sales Results.