We are all guilty of digging too deep into our job, essentially working in our business. As leaders we have to also take the time to work "on" our business by challenging what we do and why we do it.
The last couple of months, I've been doing a lot of consulting working with multiple companies and their leaders to help get them to the next level.  The discussions have been robust and have resulted in some significant changes. I thought it would be beneficial to share just a few of the questions with you.
Grab a cup of coffee and grab a couple of these questions and do a deep-dive. If you're willing to get serious, you'll begin to see things you need to change.  Do yourself a favor — drop me a note and let me know what you're thinking, but most of all, do something.
Accepting the status quo isn't going to get you anything other than the status quo.
Sales Analysis:
1. Does the market exist for what we offer?
2. What doesn't the market understand about what we provide?
3. Who is our perfect customer/client?   What makes them perfect?
4. When customers choose not to buy from us, are they choosing to not buy from anyone or are they buying from a competitor?
5. If what we provide is not a "have to buy," what would we need to change to make it a "have to buy?"
6. How is the market being served now?
7. Is our business growth hindered by external or internal factors?
8. What are the cyclical or non-controllable factors that drive a customer's decision-making process?
9. What is the industry we serve going to look like 2 years from now?
10. What are the macro trends that could impact the customers or potential customers we serve in either a positive or negative manner?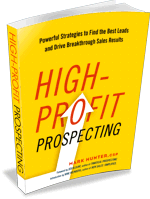 Copyright 2017, Mark Hunter "The Sales Hunter." Sales Motivation Blog. Mark Hunter is the author of High-Profit Prospecting: Powerful Strategies to Find the Best Leads and Drive Breakthrough Sales Results.