That's right! Whether you are in B2B or B2C, what you MOST need to be in is H2H — Human to Human!
This week I want you to remember that sales success is about personal relationships. Be passionate about human to human connections and dialogue. Here's to great selling!
Check out the video to see what I mean: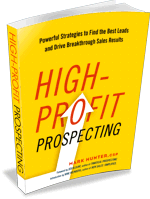 Copyright 2017, Mark Hunter "The Sales Hunter." Sales Motivation Blog. Mark Hunter is the author of High-Profit Prospecting: Powerful Strategies to Find the Best Leads and Drive Breakthrough Sales Results.