In September, I will be speaking at one of this year's premier conferences for sales leadership, sales enablement, and sales operations.  I would like to personally extend an invitation for you to join me at the event for your special VIP treatment from yours truly!
The Sales 3.0 Conference in Las Vegas will you with key insights and strategies that you can use to drive improved sales performance and increase revenue growth.
Sales 3.0 Conference goers who attend my session, High-Profit Prospecting, will learn about the importance of specific strategies and techniques in finding the right prospects and closing faster. In addition, you will enjoy an action-packed, fun-filled learning environment, and an agenda that you won't want to miss.
I'll be joined by sales VPs from industry-leading companies, technology influencers, analysts, and management and leadership experts to discuss what's impacting sales today and tomorrow, including:
The Transformation to Sales 3.0 – Lessons from History for Winning in the Future

How to Define, Refine, and Enhance Sales Enablement to Achieve Sales Success

Driving Profitable Growth in the Cognitive Era

Building the Perfect Sales Beast
Join me and other sales professionals at the Planet Hollywood Resort & Casino in Las Vegas on September 18-19.  Who else will be speaking?  Only some of the best sales speakers in the industry.
Speakers for Sales 3.0 include:
Jamie Anderson

, Senior Vice President and Chief Marketing Officer, SAP Hybris

David Bauders

, Founder and CEO, SPA

Chris Beall

, CEO, ConnectAndSell

Judy Buchholz

, General Manager, Sales Strategy and Solutions, Global Markets, IBM

Robert Carr

, Founder and CEO, Beyond

Bill Eckstrom

, Founder and President, EcSell Institute

Gerhard Gschwandtner

, Founder and CEO, Selling Power

Todd Handy

, VP and Managing Director, Digital Media & AdTech, MarketStar

Alice Heiman

, Founder and Chief Sales Officer, Alice Heiman, LLC

Phil Horn

, Vice President, Ticket Sales & Service, Sacramento Kings

Anthony Iannarino

, Managing Director, B2B Sales Coach & Consultancy

Ray Kemper

, Chief Marketing Officer, Televerde

LaVon Koerner

, Chief Revenue Officer and Co-Founder, Revenue Storm

Arun Lal, CEO and Co-founder, Contiq
Brandon Lee, Founder, Speaker and Author, Yip Yip Inc.
Shari Levitin, Professional Speaker, Author of Heart and Sell, and CEO, Shari Levitin Group
Mario Martinez Jr., CEO, Founder and Digital Sales Evangelist, Vengreso
Liz Miller, Senior Vice President, Marketing, CMO Council
Krishna Mulukutla, Senior Director Product Management, Oracle
Michael Pedone, CEO and Founder, SalesBuzz
Scott Santucci, Director, Alexander Group
Donald Scherer, Author of Assembly Required
Jeff Seeley, CEO, Carew International
Sherri Sklar, CEO, GrowthTera
Wondering if you should join us?  See what others have said about the Sales 3.0 Conference.
Don't forget to register now and use the code SPEAKERV to save 50% off your registration price.  
I look forward to seeing you there.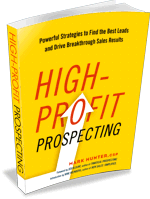 Copyright 2017, Mark Hunter "The Sales Hunter." Sales Motivation Blog. Mark Hunter is the author of High-Profit Prospecting: Powerful Strategies to Find the Best Leads and Drive Breakthrough Sales Results.