We all have 24 hours in a day, and if that's the case, why is it some people simply get far more done in a single 24-hour period than others over a span of multiple 24-hour periods.
Time is a finite resource. In fact, it's the only finite resource we have, which means our challenge is to use it to our advantage. I've been struggling severely with this problem this past year, as I've been my own worst enemy in trying to do things myself rather than utilizing my existing network and, for that matter, expanding my network.
Check out this short 20-second video on this issue:
We have to make it a deliberate objective to move things from our list to someone else's. This is not to get out of doing work, but rather to allow us to move on and do something even bigger.
The value of the network is in finding new avenues to accomplish more. In the past week in my own world, by talking with others in my network, I've found several ways to dramatically speed up how I do things.  If we fail to use our network, we're doing ourselves a disservice in never being able to fully achieve what we're capable of doing.
When we do use our network, we're also helping them understand things better. It comes down to the brutal truth about time — there simply isn't more of it. Once it's gone, it's gone. The only thing time leaves is results —  the results of what occurred because of the time that just passed.
Think about this from the perspective of our customers or those we lead. Are we helping them utilize their time more effectively?  When we are seen as being pro-active in helping others use their time more effectively, we too will become more effective in how we use our own.
The video clip in this post is one of the short videos I post each day on LinkedIn. They never are longer than 30 seconds and are designed to share one quick thought, idea, tip to help you be a better leader.   If you're not following me already LinkedIn, you should.  You can find my profile at this link.
Look for a new video each morning about 7:30 AM CDT and hit share to let others in your network benefit too.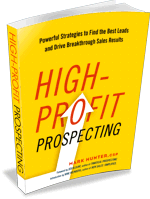 Copyright 2017, Mark Hunter "The Sales Hunter." Sales Motivation Blog. Mark Hunter is the author of High-Profit Prospecting: Powerful Strategies to Find the Best Leads and Drive Breakthrough Sales Results.