You need a prospecting strategy that is focused — a strategy that is based on looking for quality, not quantity.
Key to that strategy is being consistent in your follow up. That's right!  Don't start what you can't finish.
Check out the video to see what I mean:
For the month of June, Amazon has the Kindle version on sale for only $2.99!   Grab it today and don't forget to leave a review on Amazon.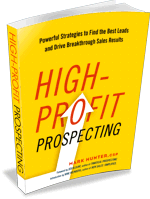 Copyright 2017, Mark Hunter "The Sales Hunter." Sales Motivation Blog. Mark Hunter is the author of High-Profit Prospecting: Powerful Strategies to Find the Best Leads and Drive Breakthrough Sales Results.