There's really no need to stress out over prospecting. Prospecting can be very, very natural, if you understand what you're doing.
However, for the vast majority of people, prospecting is one of the things they stress out over immensely. 
There's something we can do about that right now.
I have 8 steps to remove the strain from your prospecting plan, fresh off the press from The Sales Hunter University. This is just a peek at this month's: Ideal Customer Profile Masterclass, LIVE for enrollment now!    
Read more from this blog series–avoiding cold calls by knowing your ideal customer.
1. Have a plan. 
Anything is going to be stressful if you don't have a plan. It comes down to understanding:  
Who are you going to reach out to?


What are going to be the communication methods? 

What's going to be your messaging? 

What's going to be your process? 
Have a road map. It will make reaching success that much easier. 
2. Leverage all media.
This does not mean every tool out there. I mean it isn't only about email, or just telephone or social media. You have so many mediums at your fingertips, so let's not put all our eggs in one prospecting basket. 
Of course, you're going to use certain media more than others based on who you're selling to and what your focus is, or what your messaging is. But you have to be prepared to use all media. 
Why? Because people are looking for information about you before they decide to engage with you, and you better make it simple to find out about you. That's what I mean by leveraging all media. 
That includes, for instance, YouTube. Why do I put YouTube videos out every week? Because I'm leveraging all media so that you can become familiar with me. Certainly, we use social media. Of course, we don't use them haphazardly or independently. We use them as part of the plan. 
3. Focus on the next step.
One of the challenges when it comes to freaking out about prospecting is people think, "I have to make this call and I have to close this sale!" 
Not really. Chances are it's going to take multiple calls, multiple contacts, multiple messages. 
However, when you focus on the next step, which for many people in B2B, (business to business) might be just to secure a meeting. Because you're calling people, but might not actually reach them. Or they're not prepared to talk. So your next step is just to get the next meeting, or get their feedback on something, or get them to review something. 
Each step along the way moves you closer to the sale.
4. Create a relationship.
I don't care what you sell. It's still people to people. Your best move is to create a relationship. Let them know that you're human, just like them. And just as you have needs, they have needs. 
When we take the time to be empathetic, or understanding, or when we take the time to listen to the other person, it allows us to create a level of confidence because we're demonstrating competence. 
That allows us to create a relationship. At the end of the day, each conversation I have, my goal is to earn the right, the privilege, the honor, and the respect to be able to meet with you again. That allows me to create a valuable relationship.
5. Think about the outcome, not the product
. 
A lot of salespeople get so hung up on the product they're selling that they forget the product is not the reason people want to do business with you. It's the outcome. 
What is the result they're going to achieve from buying the product? 
Focus on the outcome. My primary goal is to help you see and achieve what you didn't think was possible. Notice that goal said nothing about my product or service. When you focus on the outcome, you focus on your customer's needs, too.
6. Celebrate your past successes.
Let's not kid ourselves. Prospecting can involve a lot of "boring" activity. Instead, I want you to celebrate. 
That's right, at the end of every day, I want you to celebrate. "Hey, I had one email that went through and I got a great response. I had a phone call and it was a great conversation." Celebrate! Celebrate your past successes. 
Regardless of how difficult it might've been for you to be prospecting, I want you to celebrate. Today, for instance, I was making some prospecting calls and I had one conversation that went really well. And I celebrated that success. 
7. Have peer support. 
If you've been around me for any length of time, you know that I love to say that sales is not a solo activity, sales is a team sport. You need others around you who help lift you up just as you lift them up. 
I'm part of a mastermind group, and it's amazing. We're all in sales, and we all lift each other up.  It helps us be more motivated, more focused. We celebrate each others' success, and likewise they celebrate my success. 
Peer support is a powerful tool because sales is without a doubt emotional, and prospecting is very emotional.

8. Believe in the outcomes you create.
More important than what you sell, whether it be a product or a service, is the outcome you create. When you are focused on that, you reach out to people you know you can help, and you have a plan, it really feels excellent. Because it feels like, "This is what I'm supposed to be doing." 
When you believe in the outcomes, then you know you're helping others see and achieve what they didn't think was possible.
I don't want prospecting to be stressful for you. This is just a glimpse into some of the content and some of the strategies that I share with people who are members of the Sales Hunter University. We are ranked as one of the top 10 sales development online programs for 2020, and we're very proud of that!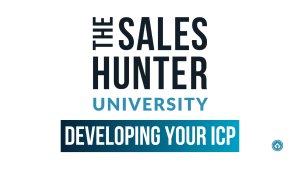 Your customers determine your level of success. 
The crazy thing is, a lot of salespeople don't even know who their ideal customer is!
I like to say that you can't turn a Walmart customer into a Nordstrom shopper, and it's true. Yet, too many salesmen and saleswomen willingly waste their time on customers that don't fit their ideal customer profile, or ICP.
Or worse, they haven't developed an ICP. Is it time your knew yours?
My ICP Masterclass is live at The Sales Hunter University. Take advantage of this early enrollment period and gain access to my exclusive webinar on July 26th. 
Are you a fan of the Masterclasses? Become a Level 3 member and gain access to all past and future offerings, as well as live coaching with me, weekly "drop in" office hours, and a wealth of information in our on-demand sales video vault. 
When you know your ICP and stick to it, you'll discover you have more time to spend with better prospects. You'll close more sales faster and at a higher price!