What's on your list of books you're reading this summer?
Below is what I've read the last few weeks or will be reading shortly.
And at the bottom of this post is a link to a much longer list of excellent sales books, thanks to my friends at Top Sales World.
I have no doubt many would be a big boost to your sales motivation!
Books I'm reading or will be reading shortly:
* Flash Foresight by Daniel Burrus
* Business Adventures by John Brooks (Both Bill Gates and Warren Buffett highly recommend this book)
Edgy Conversations by Daniel Waldschmidt
Launch by Jeff Walker
Youtility by Jay Baer
Wearing the "C" by Ross Bernstein
Platform by Michael Hyatt
Creativity Inc. by  Ed Catmull and Amy Wallace
The Idea-Driven Organization by Alan Robinson and Dean Schroeder
Breakthrough Branding by Catherine Kaputa
* I highly recommend everyone read these two books.  They will challenge your thinking both personally and professionally.  Both books helped me modify my business strategies and personal goals.
Books I hope to get to next include:
Think Like a Freak by Steven Levitt and Stephen Dubner
Lean In by Sheryl Sandberg
Stress Test by Michael Geithner
For the Top 50 Best Summer Reads list compiled by Top Sales World, click on the below image: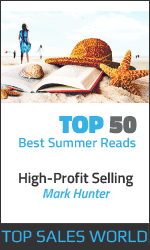 Copyright 2014, Mark Hunter "The Sales Hunter." Sales Motivation Blog. Mark Hunter is the author of High-Profit Selling: Win the Sale Without Compromising on Price.
Click on the below book cover for more info on boosting your profits!