I'm sitting in the office of a VP of Sales and he begins to share with me about all of the "vendor of the year" awards his team has received from their customers.
He says this is a great example of the leadership his team has with customers and how they don't have one customer that doesn't like them.
If time had allowed during our meeting, I would have excused myself to go throw up over what this VP of Sales was sharing with me. Sure, his team could bring home the "iron" in gazing at the trophies and plaques that graced the walls and halls of their offices, but it sure made me sick.
After he had rambled on for too long, I cut him off and asked him a simple question. I asked, "How does your profit compare to your peers?" Since they were a publically traded company in an industry where all of his peers were too, I figured this would be a no-brainer for him to answer.
Surprise! He was clueless and had no idea.
I moved on and asked him how the awards helped them secure more business. This question lit him up like a street light on a dark night. He said they list all of the awards they've won in their capabilities presentations when presenting to new customers. He said how it was an honor to be sharing that information with prospects and how he knew it was the reason why they were so successful gaining new business.
Hey, if I'm a new customer, I'd bring them on board too for one simple reason — I could get them to offer me everything, all with the allure of how they too could be our vendor of the year.
What this VP of Sales failed to realize then and still does not understand is "Vendor of the Year" awards are given most likely to the supplier that gives in the most.
Yes, there can be some other criteria, but think about who is giving the award — it's the customer! Fast forward a few days after sitting amongst the hardware and plaques, I thought I'd do a little checking.
It didn't take me long to see how this company that won all these awards was significantly behind every one of their peers in terms of profitability. I'm not going to draw a straight line, but you do have to wonder if obsession to win awards came at the expense of shareholders.
Awards are great, but if they come at the expense of shareholder equity, then I have a real concern. Selling is about creating value on both sides, not merely for the customer.
Next time you receive a vendor award, ask yourself if you're receiving it because your desire to serve them came at your expense. I'm not saying we shouldn't serve our customers, but we do need to serve them in a way that enriches both parties.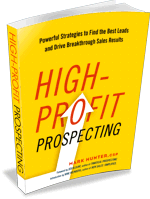 Copyright 2017, Mark Hunter "The Sales Hunter." Sales Motivation Blog. Mark Hunter is the author of High-Profit Prospecting: Powerful Strategies to Find the Best Leads and Drive Breakthrough Sales Results.