Average salespeople look at things and say there is nothing to learn. Great salespeople say there is always something to learn!
What will you learn today and how will you put it into practice tomorrow?  Your ability to do this is what creates opportunities.
Check out the video to see what I mean: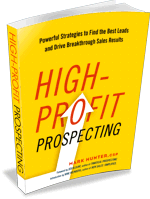 Copyright 2016, Mark Hunter "The Sales Hunter." Sales Motivation Blog. Mark Hunter is the author of High-Profit Selling: Win the Sale Without Compromising on Price and High-Profit Prospecting: Powerful Strategies to Find the Best Leads and Drive Breakthrough Sales Results.