When you know a prospect or customer has been on vacation because of their "out-of-office" message, plan to call them a few days after they return.
This gives you an easy way to build rapport, because you can ask them about their vacation.  And you'll build your sales motivation and prospecting skills as well.
Check out the video to see what I mean: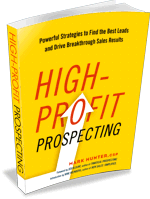 Copyright 2017, Mark Hunter "The Sales Hunter." Sales Motivation Blog. Mark Hunter is the author of High-Profit Prospecting: Powerful Strategies to Find the Best Leads and Drive Breakthrough Sales Results.