It's summer, and as most sales leaders like yourself know, it is a prime time when clients and prospects cancel appointments. Want to know how to increase the likelihood of them KEEPING the appointment?
Call them to confirm the appointment, and whether you reach them or their voicemail, be sure to remind them you will be bringing a key piece of information that will benefit them.
Check out the video to see what I mean: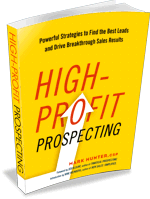 Copyright 2017, Mark Hunter "The Sales Hunter." Sales Motivation Blog. Mark Hunter is the author of High-Profit Prospecting: Powerful Strategies to Find the Best Leads and Drive Breakthrough Sales Results.