Do you know what great salespeople do?  They set goals they can exceed.
As we are nearing the end of 2016 and looking ahead to 2017, I challenge you to embrace what it means to set big goals and achieve big success.
Check out the below video to see what I mean: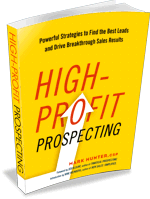 Copyright 2016, Mark Hunter "The Sales Hunter." Sales Motivation Blog. Mark Hunter is the author of High-Profit Selling: Win the Sale Without Compromising on Price and High-Profit Prospecting: Powerful Strategies to Find the Best Leads and Drive Breakthrough Sales Results.