Make 2-3 phone calls to easy customers or prospects — they think highly of you and are ready to buy.
If you start Monday with a few calls where you can find quick sales success, you will build momentum for the week.
Check out the video to see what I mean: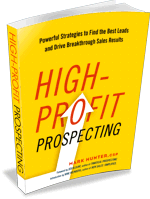 Copyright 2017, Mark Hunter "The Sales Hunter." Sales Motivation Blog. Mark Hunter is the author of High-Profit Prospecting: Powerful Strategies to Find the Best Leads and Drive Breakthrough Sales Results.