Successful people never go alone. This week, be on the look out for someone you can challenge to the next level.
When we do this, we raise our own motivation and enthusiasm even more.  Surround yourself with people you can challenge and who will challenge you.  Together you will see more success than you can even imagine!
Check out the video to see what I mean: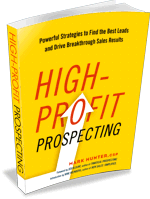 Copyright 2017, Mark Hunter "The Sales Hunter." Sales Motivation Blog. Mark Hunter is the author of High-Profit Prospecting: Powerful Strategies to Find the Best Leads and Drive Breakthrough Sales Results.