Who is your favorite customer? I challenge you to start this week by calling that customer. It will boost your sales motivation and set you on a course for success.
Starting your week right is all about setting the tone, and there's no better way to start on a positive tone than a conversation with your favorite customer.
Check out the video to see what I mean: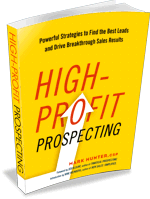 Copyright 2017, Mark Hunter "The Sales Hunter." Sales Motivation Blog. Mark Hunter is the author of High-Profit Prospecting: Powerful Strategies to Find the Best Leads and Drive Breakthrough Sales Results.