If Linkedin isn't creating for you the prospects and business you need, then it's time to ask yourself if you're using Linkedin correctly.
It's easy to think all you need to do is buy one of the Linkedin premium services and suddenly you'll have all the business you need. False assumption! Yes, having one of their premium services will help, but it still comes down to knowing what you have already.
I've said it before and I'll say it again: #SocialMedia without social connection is social stupidity!
What this means is simple. If you want to be effective with Linkedin or any other social media website, you have to create a community and ultimately one-to-one dialogue.
Linkedin is the social media site I use the most and it's one of the reasons I've been able to create more than 100,000 followers on Linkedin. The secret is no secret. It's all about being involved in discussions, creating great content and engaging with people.
If you want to post and forget, then you'll find everyone else forgetting about you.
If you're all about only looking to respond to those people who are on your dream list or are the perfect prospect, then you'll miss the value of Linkedin. Sure, we all want to have an on-line conversation with a CEO or other high-value person, but remember Linkedin is a social media site and that means "social" as in everyone is equal.
When you respond to a person's comment, you create a trail for others to see. This is why I keep conversations public. I don't have an absolute rule as to when I move a conversation to a one-to-one message, but I always wait until I know there is value in our conversation. It's not about me selling anything short-term. It's all about me creating a long-term insightful relationship. In the end, I'll come out much further ahead with the latter.
Join me on Dec. 8 as I discuss with Linkedin expert Zeev Wexler on how to prospect in a social media world and, in particular, how to use Linkedin. We'll also showcase a tool I use and I firmly believe you should too if you're serious about prospecting better.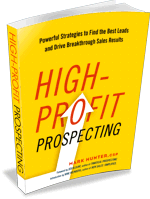 Copyright 2016, Mark Hunter "The Sales Hunter." Sales Motivation Blog. Mark Hunter is the author of High-Profit Selling: Win the Sale Without Compromising on Price and High-Profit Prospecting: Powerful Strategies to Find the Best Leads and Drive Breakthrough Sales Results.