In September, I will be presenting at the Sales 3.0 Conference in Las Vegas, along with other leading sales professionals.  My session will focus on prospecting, and I am so excited to be part of this conference.
2018 will be here in no time! Sales 3.0 can prepare you and your sales team to make a big impact in the new year, as well as close out this year's 4th quarter strong.
The Sales 3.0 Conference is for executives in sales and sales operations who want to learn today's key insights and strategies that are driving improved sale performance and revenue growth as we go into the new year.
The conference is a mix of keynotes, main-stage presentations and breakout sessions. Between presentations, there's abundant opportunity for networking, and you can see demos of the latest sales-technology innovations from the sponsors.  Of course, Sales 3.0 ends with complimentary cocktail reception allowing speakers and attendees to get together and network.
Join me and other sales professionals at the Planet Hollywood Resort & Casino in Las Vegas on September 18-19.  Who else will be speaking?  Only some of the best sales speakers in the industry.
Register for the event at this link.
Use the CODE SPEAKERV to receive a 50% discount!
Speakers for Sales 3.0 include:
Jamie Anderson, Senior Vice President and Chief Marketing Officer, SAP Hybris
David Bauders, Founder and CEO, SPA
Chris Beall, CEO, ConnectAndSell
Judy Buchholz, General Manager, Sales Strategy and Solutions, Global Markets, IBM
Robert Carr, Founder and CEO, Beyond
Bill Eckstrom, Founder and President, EcSell Institute
Gerhard Gschwandtner, Founder and CEO, Selling Power
Todd Handy, VP and Managing Director, Digital Media & AdTech, MarketStar
Alice Heiman, Founder and Chief Sales Officer, Alice Heiman, LLC
Phil Horn, Vice President, Ticket Sales & Service, Sacramento Kings
Anthony Iannarino, Managing Director, B2B Sales Coach & Consultancy
Ray Kemper, Chief Marketing Officer, Televerde
LaVon Koerner, Chief Revenue Officer and Co-Founder, Revenue Storm
Arun Lal, CEO and Co-founder, Contiq
Brandon Lee, Founder, Speaker and Author, Yip Yip Inc.
Shari Levitin, Professional Speaker, Author of Heart and Sell, and CEO, Shari Levitin Group
Mario Martinez Jr., CEO, Founder and Digital Sales Evangelist, Vengreso
Liz Miller, Senior Vice President, Marketing, CMO Council
Krishna Mulukutla, Senior Director Product Management, Oracle
Michael Pedone, CEO and Founder, SalesBuzz
Scott Santucci, Director, Alexander Group
Donald Scherer, Author of Assembly Required
Jeff Seeley, CEO, Carew International
Sherri Sklar, CEO, GrowthTera
Wondering if you should join us?  See what others have said about the Sales 3.0 Conference.
Don't forget to register now  and use the code SPEAKERV to save 50% off your registration price.
I look forward to seeing you there.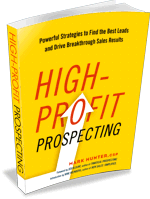 Copyright 2017, Mark Hunter "The Sales Hunter." Sales Motivation Blog. Mark Hunter is the author of High-Profit Prospecting: Powerful Strategies to Find the Best Leads and Drive Breakthrough Sales Results.