Sales leadership is not about what we sell or how we sell, but rather it's all about why we sell.  It comes down to one simple thing — helping others. In both sales and leadership, the end game is the same — to help others.
There's a reason why top salespeople and great leaders are highly motivated people. When we're focused on helping others, it naturally results in us being more motivated.
Who will you help today? I find myself struggling when it becomes all about me. The self-centeredness takes over and I quickly spiral downhill.  When my day is focused on helping others, it's amazing how my attitude and outlook are completely different. The result is simple — I end the day having accomplished more.
Who are you helping today? Check out this short 15-second video as I share the concept of helping others and making it the focal point of our leadership:
This is the number one reason why I love what I do — it's the ability to help others and it goes far beyond what I sell and even how I sell.
Take a few minutes at the end of a day where you know you've helped others and ask yourself if you're feeling more motivated and feeling more positive about what you do.  I'm sure you'll find yourself saying "yes."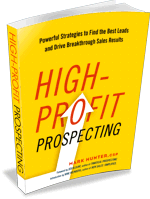 Copyright 2017, Mark Hunter "The Sales Hunter." Sales Motivation Blog. Mark Hunter is the author of High-Profit Prospecting: Powerful Strategies to Find the Best Leads and Drive Breakthrough Sales Results.