I wrote the best-selling book High-Profit Selling with one goal in mind — to help you prospect more effectively.
Just because a prospect rejects you on a call doesn't mean there isn't something for you learn.
Check out this 50-second piece where I talk about learning from every call, regardless of how it goes:
Many times when I'm coaching salespeople on making calls or I am making calls myself, the person on the other end is clear that they are not interested. To me this is what makes sales fun! Sure, I'm not crazy about rejection, but I know each rejection moves me along to the next "yes."
What's great is even with the rejection there is still the opportunity to learn. I see this as a huge way to gain additional insights that will ultimately help me with the next "yes."
Give me the fast rejection anytime over the long drawn out rejection that winds up wasting even more of my time. Either way, I just want to succeed in being able to learn something that may help me with the next call.
Want more great tips? Don't forget to check out my book, High-Profit Prospecting!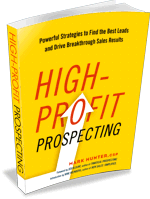 Copyright 2017, Mark Hunter "The Sales Hunter." Sales Motivation Blog. Mark Hunter is the author of High-Profit Prospecting: Powerful Strategies to Find the Best Leads and Drive Breakthrough Sales Results.