A couple years ago, a well-recognized "sales expert" told me top sales performers are not passionate. The argument they laid out was passion does not exist in sales, as it will cloud a person's thinking ability.
That conversation has bugged me ever since I first heard it. I believe being passionate is a requirement if you want to be successful in sales. My belief is we have to have a desire to succeed and the passion to serve if we're going to be successful in sales. It's not about being passionate about what we sell; it's about being passionate about helping those we have the privilege to sell to and come in contact with that counts.
After I get done speaking or working with a client, people will always comment to me about how my passion for sales comes through in how I communicate. Does your passion show?  Maybe the question is not if your passion shows, but do you even have passion for sales?
Being passionate means caring for others and caring about their success.  Yes, the same holds true for leadership and is one of the reasons I say frequently, "Sales is leadership and leadership is sales."
Watch this 52-second video clip where I share my views on passion:
The first thing a customer buys is the salesperson, and with this being the case, then doesn't demonstrating passion allow the customer to buy in sooner?  Passion is genuine. It's not faked. It's genuine and in this era of "fake news," isn't that refreshing?
Our goal is to help others succeed. To do this we can't just say it, but we have to mean it by living it, and that is the foundation from which passion is built. How passionate are you when it comes to your customers? How passionate are you to others you come in contact with?
The benchmark we should all have when it comes to our customers and others is to show the same level of passion to them as we do our own family.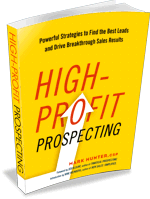 Copyright 2017, Mark Hunter "The Sales Hunter." Sales Motivation Blog. Mark Hunter is the author of High-Profit Prospecting: Powerful Strategies to Find the Best Leads and Drive Breakthrough Sales Results.