What's the difference between productive and busy? 
Being productive means you're generating revenue or focused on goals.  Being busy is everything else.
Which would you rather be next year?
I want to help you create an effective and helpful Annual Plan this year. In addition to these 9 key elements, I'm offering more instruction and direction in this month's Annual Planning Masterclass You'll finish with a crystal clear picture of how to make the best plan to have your most productive year. Find out more here. 
1. List your current year goals.
How have you done with those goals you wrote (what probably seems like forever ago)? What did you learn from them? 
And if you're reading this before the end of the year, what's your expected year-end finish? I want you to walk through it, because this is a reality check: "Do I blue sky my goals? Or am I realistic?" 
2. Review your selling proposition. 
With regards to how you did with your goals, are there elements in your selling proposition that you need to change? 
Are there areas that you need to say, "Hey, you know what, this doesn't fit my ICP (ideal customer profile), I got too sidetracked over here."
If you strayed a little too far from your lane, it's time to straighten things up. 
Read more about how to identify ideal customers. 
3. Time management 
The most successful people are disciplined people, and discipline means excellent time management.
In fact, there's a direct correlation between the results people achieve and the effectiveness they have with their time. 
Think about it, what worked and what didn't? Where do you need to be spending more time? What do you need to eliminate? 
Find those gaps and you'll be much more productive next year. 
4. Your mindset
How motivated were you last year? Where did your motivation lag? Was it in the second quarter, third quarter? Was it coming into summer months? 
Your mindset impacts your performance, provides you with adrenaline and the oil in your productivity machine. A solid mindset allows you to be so much more efficient because your head's in the game, you're not foggy.
5. Customer list


Who are your strong customers? 
Which ones are at risk of leaving? 
If I'm going to build out my goals, I need to figure out where I'm going to be spending my time. Knowing who my customers are reveals upcoming opportunities, and who needs more of my time.
6. Prospects
. 
Did you have enough prospects this year? 
If you need more prospects, then it's crucial to allocate more time to prospecting as part of your annual plan.
Is your prospecting focus big enough to support the end results that you need to achieve? If not, make an adjustment.
7. Competitors
Who are your competitors in the marketplace? 
What did they do this past year that helped you or hurt you? How is that going to impact you next year?
8. Company status
Did your company undergo something last year that helped it or hurt it? 
Or maybe sales really increased last year from a new product, but as a result, it's going to be tougher to get new sales this year.
Is your own company planning a major expansion? Or a big launch? How might you capitalize on that?
Are there people leaving your company that are critical subject matter experts for you? 
9. Industry Status
How the industry fairs can impact how things go for you, too. Are you going to be taking market share from other people or the other way around?
Maybe there's another industry you've got to get into, because this industry's mature and declining.
Take the time to determine where you came from. 
By answering these questions and working out all the answers, you're creating a foundation. An annual plan built on this kind of foundation will be much stronger.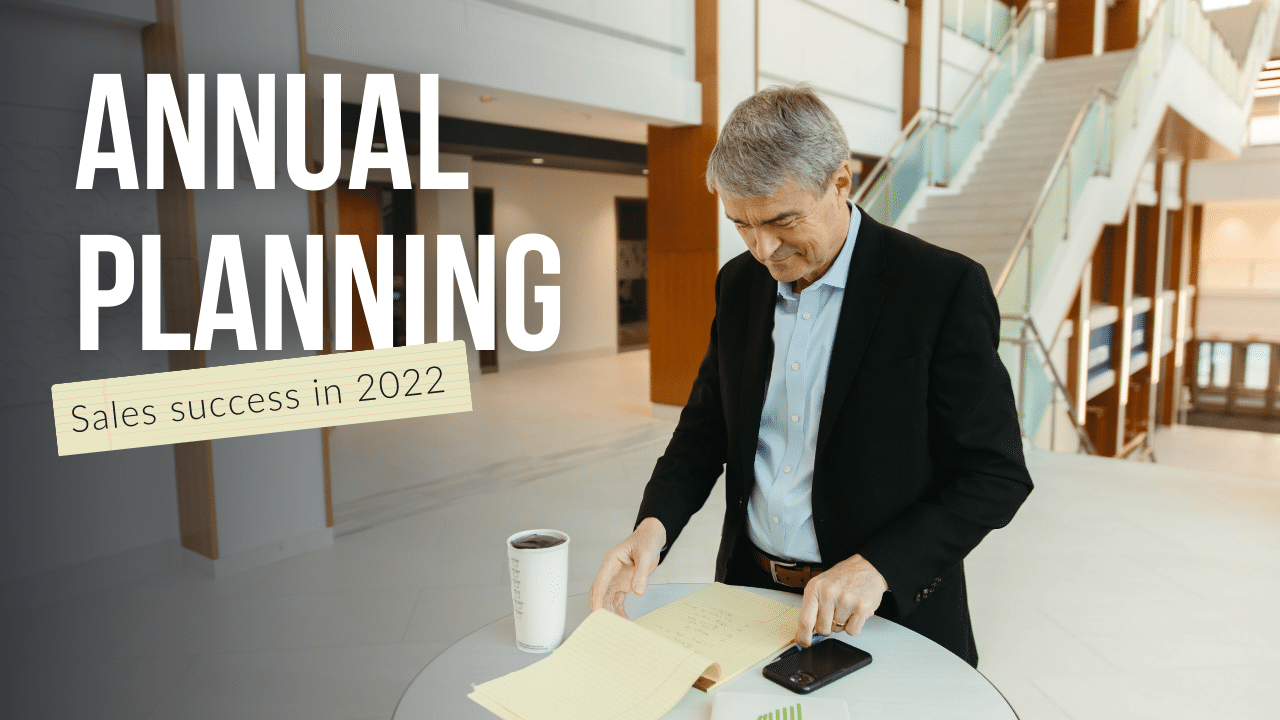 Next year could be good, or it could be great. 
To have your strongest chance at success, I recommend checking out this month's masterclass. This course is totally customizable, and will foster some great thought process about what you've accomplished, and everything you hope for next year.  
This course starts with prep for a great annual plan, then each video dives into the details of each piece of an effective plan. After we've covered all the details, it's time to come up for air and focus on where do we go from here?  Once you have a plan, I will help set you up for successfully achieving those goals as we explore next steps. 
To make you an even more powerful salesperson, I'm including BONUS access to my Goal Setting Masterclass for free when you enroll in the Annual Planning Masterclass. That's two masterclasses for just $59! It's an incredible value to start your 2022 off ready and running.