What's the best way to execute your annual plan?
What can I do on a regular basis to move myself forward? 
The following three habits are going to apply to anybody and everybody. Let's delve into how to execute your plan in a way that you can increase your chances of success.
This month's masterclass will guide you through the creation of your best annual plan. Enroll now and get my Goal Setting masterclass–free!
1. Review your goals.
Too many people build their annual plan and put it in a drawer and never look at it again. I want you to be reviewing your goals not just on a monthly basis, or a weekly basis, but on a daily basis. 
You can't put them in a drawer, in a folder, or out on the cloud and forget about them.
via
The Sales Hunter
on
GIPHY
If you've been around me a long time, you know that I talk about simplification of your goals. I have four goals, that's it. Two primary goals and two secondary goals. And the secondary goals actually support the primary goals. 
Now, I have a lot of other things I'm working on, but these are the goals. I look at these two goals every day. Over time, the more I focus on the goals, the more success I have.
You have to ask yourself at the beginning of the day:

"What am I gonna do today to move myself forward? Is my day set up to help move me closer to achieving these two goals?"
Then, at the end of the day, you need to ask yourself:

"Did I do what I said I was gonna do to help myself?" 
These evaluations at the beginning and end of the day help me stay laser focused on a daily basis. 
2. Have a mastermind group. 
You've heard the phrase, "You become the sum of the five people you associate with the most." I didn't come up with that line, Jim Rohn did. You have to be part of a dedicated, motivating group of people because you're challenging them on their goals and they're challenging you. Now, when I say challenging, you're helping each other. 
I'm part of a mastermind group, we meet regularly, and we text daily, helping each other, and working with each other. We know what each other's goals are, and as a result, we lift each other up. We are stronger together. 

via GIPHY Studios Originals on GIPHY

3. Continuous learning.

Any successful person is a continuous learner. 
I don't care who it is. It could be Elon Musk, Jeffrey Bezos, Bill Gates, it could be anybody. They are continuously learning. Why are we not following suit?
You need to be in a framework.
Start putting this habit into practice by joining The Sales Hunter University. Level 3 members enjoy unlimited on-demand access to endless sales training courses on topics driven salespeople want to learn about. Each course has easily applicable knowledge that will sharpen your sales skills and set you apart.
I'm not some "far-off professor" though, Level 3 also gives perks like one-on-one time with me, as well as monthly online coaching. Look into the variety of learning opportunities TSHU has to offer and choose the membership level that's the best fit for you.  
See more blog content and Read More about the key elements of a strong annual plan. 
Do these three things, and you're going to be more disciplined as an individual. I firmly believe that the reason annual plans are achieved, or not achieved, really comes down to the level of discipline and focus that
we have.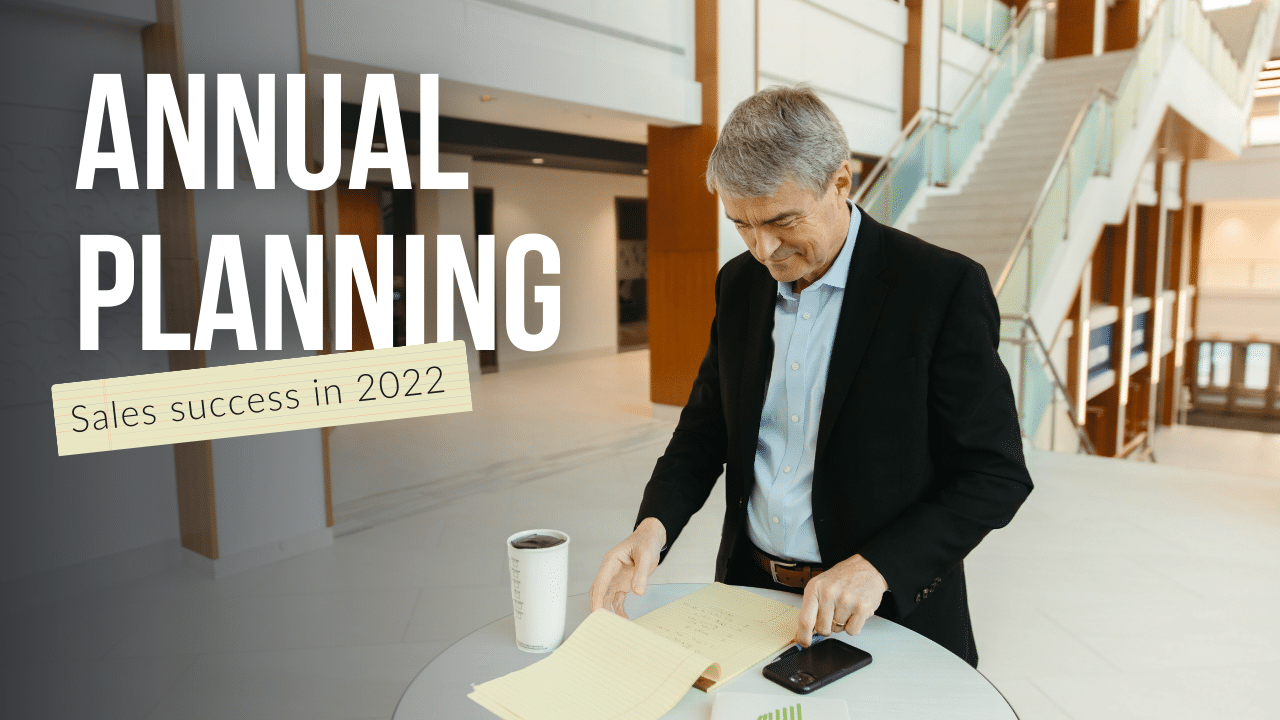 Right now is the time when you have the ability to impact the year more than ever.


It's time to jumpstart your goals and motivation for 2022. Enroll in this month's Annual Planning Masterclass for maximum impact. 
It's not just about crossing your t's and dotting all your i's. This takes critical thought, and evaluation that I will guide you through. Want next year to be different? This is your first step. 
Enroll now and get two Masterclasses for the price of one– Annual Planning and Goal Setting. Start off the year with some key learning that will propel you forward to next December and beyond.  
Let's add goal writing and annual planning to your salesperson toolbelt. Equip yourself to achieve more in 2022.