#SocialSelling is all the rage, but before we get carried away with it, let's realize something our mothers told us growing up — "Too much of anything will make you sick."
Social selling is ONE sales tool. Do not think of it as THE only sales tool, because doing so will get you in trouble real quick.
With that disclaimer out of the way, here are 10 ways to make social selling work for you:
1. It's all about one-to-one relationships. View social media as nothing more than the telephone in a different format. Your goal is to have conversations with individuals, not to simply send out mass blasts.
2. Never view social selling as the only way to reach someone. Just because you're on social media doesn't mean every person you are trying to reach is going to be on social media.
3. Don't spread yourself too thin. Only use the platforms that will allow you to reach those people with whom you can do business.   My preferred platform is Linkedin, because I focus on B2B.   Unless you're a retail establishment, you want to limit your presence to the sites with which you can have an impact. Never underestimate the value of your time.
4. Don't spam! The same rule as with email applies to social media. Just because you suddenly connected with somebody does not give you the right to send them your "here's how I can help" message.
5. Look for commonality and remember the key word is "social." Find a common connection or something you can agree with the person on and use it as your lead in for a conversation.
6. Never forget the most basic criteria is to be using social media sites as a way of creating your on-line profile. Look at profiles of other people you respect and notice what they're doing. Feel free to check out my Linkedin profile at this link. Post information and articles that represent your interests and who you are.   I will post from time to time articles on leadership and the economy I find of value to others. I do this as a way to allow people to see I am about more than just sales.
7. Limit the time you spend on social media sites!   Looking at cat videos is not going to generate any sales for you!   Don't get caught up scrolling through sites and "liking" everything of interest. In my book High-Profit Prospecting, I say each minute on social media sites must be earned.   Never forget you can't eat "clicks" and "likes."
8. Be helpful. Participate in conversations and share opinions and ideas as a way for people to get to know you better and as an opportunity to dialogue with others.
9. Reach out and connect with others who view your profile. I use this as just one of the many ways to help build my connections.   I agree it's not about numbers, but in the end the more people you're connected with, the more your content and comments will be visible to others.
10. Focus on key words, activities, groups, etc., with which your prospects will also be engaged. For Linkedin there are specific groups I belong to where my prospects tend to be members too. For Twitter I follow key words to allow me to follow prospect-focused conversations.
Finally, don't think for a moment social selling will solve all your problems.   There are still far more potential customers NOT on social media than there are people who are actively engaged. Yes, the numbers vary by industry and demographics, but to think social media is the only tool you need to use is simply STUPID!   It's a great tool, but it's only one tool.
If you do sell in an industry that is not prone to using social media, don't think that means you don't need to use it either. You still do if for no other reason than to have a robust on-line profile people will see if they Google your name.   Let's not forget that even people who do not embrace social media will still use the internet to find out more about the salesperson they're about to meet.
In my new book High-Profit Prospecting, I go into more depth regarding social media and, more importantly, I share strategies as to how to use other sales tools effectively. I can't suggest strongly enough the need for you to buy the book…. I know it will make you more effective as a salesperson.  You can find it at this link.
Do you have a sales meeting coming up? Does your sales team need new strategies to make their 2017 goals? Call me NOW and let's get your meeting on my calendar.  You can reach me at 402-445-2110 or check out my website at www.TheSalesHunter.com
Here's what others have to say:
"At our annual company sales meeting, we've never seen a speaker work so hard, with advance preparation, with such genuine style of delivery, and with such hunger for results. If you weren't on the edge of your seat… you were in a coma. Period!"
"Mark's strategies are innovative, easy to follow and easy to use in the 'real world.' He customized his strategies to directly speak to the issues and challenges facing our unique business…"
"He nailed it and gave the 150 selling professionals and business owners in attendance amazing tips, strategies and tactics they could implement that day. The sales leaders at our program universally acknowledged Mark as one of the top speakers we've ever had."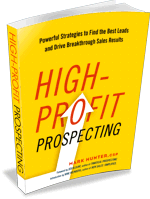 Copyright 2016, Mark Hunter "The Sales Hunter." Sales Motivation Blog. Mark Hunter is the author of High-Profit Selling: Win the Sale Without Compromising on Price and High-Profit Prospecting: Powerful Strategies to Find the Best Leads and Drive Breakthrough Sales Results.