What are you planning to do differently next year? When I say "differently," I mean really different.
Too many times we make only minor changes, and then we wonder why we achieve only minor improvements.   If we're going to make serious changes next year, we have to step back and ask ourselves tough questions.
Below is a list of my 10 questions. Ask yourself each question and don't rush to answer them, but take the time to think outside your comfort zone. We can't forget that merely answering the questions isn't going to create any improvement unless we do something differently.
Use the questions to spur your thinking and most of all to spur your actions. Let's make the upcoming year our best year yet! Ask yourself…
1. If I only had ½ the time to complete what I do now, what would I need to change?
2. What are the things I do that do not result in revenue?
3. Who do I need to spend more time with to allow me to become more effective?
4. Who do I need to spend less time with to free up more time and prevent me from falling prey to bad thinking?
5. What can I outsource?
6. What do I need to stop doing?
7. What are the two things I need to do more of that will result in me having more success?
8. What do I need to change about my own mindset?
9. Is my personal mindset growing at a rapid pace?
10. What can I change as to how I look at my goals to find a way to achieve them faster?
If you have not yet bought my new book, High-Profit Prospecting, I can't stress enough why you need to. You certainly want to make sure you're as equipped as possible to be as successful as possible, and this book can help do that!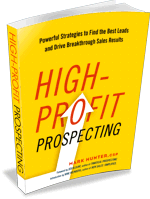 Copyright 2016, Mark Hunter "The Sales Hunter." Sales Motivation Blog. Mark Hunter is the author of High-Profit Selling: Win the Sale Without Compromising on Price and High-Profit Prospecting: Powerful Strategies to Find the Best Leads and Drive Breakthrough Sales Results.