The argument I hear is, "I don't have time to prospect due to everything else I have going on."
Yes, I've even been guilty of saying it too.  The argument is by the time you take care of all the existing customers, there's no time left to do any prospecting.
Let me be blunt. Thinking about prospecting is not prospecting.
I don't care how good your intentions are; they're only intentions. Until you actually do it, nothing is going to happen. You might have great intentions about an investment you're thinking about making, but unless you make it, the investment doesn't exist!
Customers aren't going to fall into your lap. If they do, great, but don't go building your sales quota on it happening.  Prospecting begins when you engage. Preparing to prospect by gathering information, etc., is not prospecting! It's called getting ready to prospect.
Far too many salespeople never make their quota because they spend all of their scheduled time to prospect merely preparing to prospect. I put these people into another camp I call "prospecting wimps." These are people who in reality are afraid to prospect, so they spend their prospecting time doing everything but actually prospecting.
We need to quit building our day around "to do" lists of things we think are important and instead realize how vital prospecting actually is!
I'm reminded of the Chinese proverb: The best time to plant a tree was 20 years ago. The second best time is now.
If you want to have customers next year, next quarter, or even next month, you need to be prospecting today.  That means engaging with them, not simply preparing and not thinking about them, but doing it.
If we want to have sales to close, it starts with prospects and it starts with you picking up the phone.
Mark Hunter is the author of High-Profit Prospecting: Powerful Strategies to Find the Best Leads and Drive Breakthrough Sales Results.
Mark Hunter, your next keynote speaker: 
Mark Hunter, CSP, "The Sales Hunter" is recognized globally as one of the top sales speakers, known for his challenging insights, high-energy, and passion to create change that he delivers each time he speaks, whether it be a sales kick-off meeting, corporate function or association event. Mark Hunter is the author of the best selling book, High-Profit Prospecting. Here's what others are saying:
Mark presented "Accelerate Your Sales Prospecting" at the February 2015 Institute for Excellence in Sales program in Northern Virginia. He nailed it and gave the 150 selling professionals and business owners in attendance amazing tips, strategies and tactics they could implement that day. The sales leaders at our program universally acknowledged Mark as one of the top speakers we've ever had.
Fred Diamond, Executive Director, IES Washington DC
At our annual company sales meeting we' ve never seen a speaker work so hard, with advance preparation, with such genuine style of delivery, and with such hunger for results. If you weren't on the edge of your seat….you were in a coma. Period! 
Mark Allen, Regional Manager, Marlin Companies
Mark's strategies are innovative, easy to follow and easy to use in the "real world." He customized his strategies to directly speak to the issues and challenges facing our unique business, and he helped us encompass specific selling examples. This training was very applicable to our sales staff, both at a senior and junior level, as it reinforced important sales techniques."
Danielle Pakradooni, Blue Man Group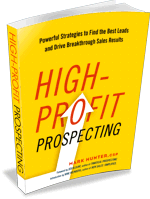 Copyright 2017, Mark Hunter "The Sales Hunter." Sales Motivation Blog. Mark Hunter is the author of High-Profit Prospecting: Powerful Strategies to Find the Best Leads and Drive Breakthrough Sales Results.