We've all seen a hundred times the Capital One commercial for their credit cards that ends with the tag line, "What's in your wallet?"  With that said, let me ask you, "What's in your sales funnel?"
Let's call out the elephant in the room when it comes to sales funnels. Too many of them are nothing but clogged sewer pipes.
They're clogged because sales managers go on a rampage if they see sales funnels that aren't full.  Salespeople are smart. If the sales manager wants a full funnel, the salespeople fill it. The problem is it's filled with stuff that's not going anywhere.
How do I know salespeople do this? Simple… because I used to do it. I knew as long as my pipeline was full, my boss wouldn't bug me. Didn't matter what it was filled with, just as long as it was full.
If and when a sales manager challenges a salesperson on their pipeline, the salesperson is quick to make some excuse as to why a decision has been delayed or the prospect is waiting for their budget to be approved or some other lame excuse.  Don't deny it. You've said the same thing. I know I have!
We've come to believe the key to success is having a huge pipeline, but in so doing, we've lost all sense of the speed of what's flowing through the pipeline.
Here is where I really start going nuts with sales funnels, sales pipelines or whatever other symbol you want to use.  If you put garbage in at the top you're going to get garbage coming out the bottom. Gee, pretty simple concept, and yet it gets lost with too many salespeople.
The idea of a sales funnel with a wide top that we dump in tons of leads is a waste of everyone's time.  We then make the situation worse by coming up with a lame 15-step sales process, complete with charts and diagrams to show us how a lead becomes a customer.
The process is so convoluted that the salesperson is left doing nothing but managing their pipeline and keeping track of stuff that isn't going anywhere.
Quit worrying about leads. Quit worrying about the convoluted sales process the "sales process enablement task force" put together last year. Let's not kid ourselves. The "sales process enablement task force" came up with the 15-step process for three reasons:
One, they needed to make it complicated enough that people would think the task force was made up of really smart people.  Two, the C-Suite paid a consulting company 7-figures to study the problem. And finally, they felt by making it complicated it would require them to have quarterly off-site meetings to review the process for the next 3 years.
It's time to simplify the sales funnel and allow it to do what is supposed to do, and that is create sales.  Two challenges I pose to every organization I consult with or have the privilege to speak to are below:
What needs to be done to streamline the sales funnel and reduce the time/steps it takes to go from lead to customer?  Speed wins. This isn't 1999!
What needs to change in the lead qualification process to allow salespeople to spend more time with fewer prospects?  Yes, you read that right — more time with fewer prospects.  Why? It's simple. We'll never be able to maximize the value of a relationship until we fully understand the needs of the customer.
The sales funnel/pipeline needs to become much like a water pipe where water comes in one end and rapidly moves out the other end. If your sales pipeline resembles a sewer pipe, the call you need to make is to your plumber.
Mark Hunter is the author of High-Profit Prospecting: Powerful Strategies to Find the Best Leads and Drive Breakthrough Sales Results.
Mark Hunter, your next keynote speaker: 
Mark Hunter, CSP, "The Sales Hunter" is recognized globally as one of the top sales speakers, known for his challenging insights, high-energy, and passion to create change that he delivers each time he speaks, whether it be a sales kick-off meeting, corporate function or association event. Mark Hunter is the author of the best selling book, High-Profit Prospecting. Here's what others are saying:
Mark presented "Accelerate Your Sales Prospecting" at the February 2015 Institute for Excellence in Sales program in Northern Virginia. He nailed it and gave the 150 selling professionals and business owners in attendance amazing tips, strategies and tactics they could implement that day. The sales leaders at our program universally acknowledged Mark as one of the top speakers we've ever had.
Fred Diamond, Executive Director, IES Washington DC
At our annual company sales meeting we' ve never seen a speaker work so hard, with advance preparation, with such genuine style of delivery, and with such hunger for results. If you weren't on the edge of your seat….you were in a coma. Period! 
Mark Allen, Regional Manager, Marlin Companies
Mark's strategies are innovative, easy to follow and easy to use in the "real world." He customized his strategies to directly speak to the issues and challenges facing our unique business, and he helped us encompass specific selling examples. This training was very applicable to our sales staff, both at a senior and junior level, as it reinforced important sales techniques."
Danielle Pakradooni, Blue Man Group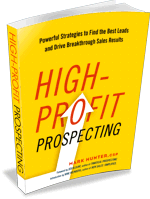 Copyright 2017, Mark Hunter "The Sales Hunter." Sales Motivation Blog. Mark Hunter is the author of High-Profit Prospecting: Powerful Strategies to Find the Best Leads and Drive Breakthrough Sales Results.