Quality leads turn into qualified prospects.
If you're not happy with the quality of your leads, it's time to check your sources. 
You wouldn't keep going back to the same apple stand if you always got rotten apples, would you? You'd probably go where you've bought excellent apples before, or where others have recommended. 
Let's take a moment and analyze nine excellent sources for leads that are much more likely to become qualified prospects, and later satisfied customers. 
Only a few more days to enroll in the NEW Sales Prospecting: Filling the Pipeline Masterclass. Remember, if you sign up now, you're invited to my exclusive webinar sharing my personal strategies to keeping my pipeline filled on Nov. 4th at 2:00 CT.
1. Tight ICP 
I don't want leads coming in that are just random people. Rather, I'll ask myself, "Does the lead fit my tight ICP, (my ideal customer profile)?"
Knowing your ICP will save you time and money. When I see how my lead lines up with my ideal customer from the get-go, that helps me make better decisions about how to move forward.
If you don't know your ICP, I recommend checking out my Ideal Customer Profile Masterclass here.  
2. What's worked before
Look at where your leads have come from before–which ones converted, and which did not? Take a look historically at what has worked for you. 
What I find is, too many people just chase numbers. Don't chase numbers, chase quality sources. You may have gotten 90% of your leads from this particular source over here, let's say webinars, and only 5% have come from this very minute area.
But if those 5% of your leads have a much higher conversion rate, then you definitely want to focus on what's been profitable. Perhaps you get the majority of your leads from a particular geographic area because it fits your ICP–great! Zero in on what's worked before.
3. Referrals
Oftentimes salespeople do not take advantage of referrals. I want you to drive that home with every customer that you have.
"Hey, who else might I be able to assist in the same way that I've been able to help you?" These are very easy conversations for you to have. Plus, when they give you a referral, it has a much higher likelihood of closing! 
My insider tip is to keep the customer or person who gave you the referral engaged. Keep them involved, let them know what happens to the referral. If it closes, make sure you let them know, and the same if it doesn't. Because there's nothing worse than giving somebody a name, and maybe even making an introduction, and never hearing from them again.
4. Reputation 
Your reputation impacts much more than you. People do not start working with another person until they first have done a little bit of a background check. 
If you want to have a conversation with this 'ideal customer,' they're going to go out and check your profile before they agree to a meeting. This is not an excuse for you to go hog wild on social media. It's more about what the internet says about you and your company. 
For example, I put out a Youtube video and blog like this every week. I'm continuously streaming content out there. Certainly, it's part of my business, but what does it do? It improves my reputation. Of course, you have to do it in a controlled manner. But your digital footprint is definitely something worth examining and spending some time on. 
5. Existing customers
This goes beyond referrals.  There's a tremendous amount of business that gets left on the table when we 'close a deal.' 
We don't close a deal. We open a relationship. 
If you are not able to get a significant amount of business from your existing customers, then something's wrong with the product or the service you deliver. The amount of sales you get from repeat and additional business is a real indication of the quality of the service that you provide.
6. Associations 
What are the associations that you need to be aligned with? If a particular ICP has a trade association, are you involved with that trade association? Are you engaged with them? This is an excellent lead source.
7. Your network
You don't use your network, you nurture your network. You're helping it multiply and grow, as a rising tide lifts all boats. 
I'll bet you've got a network that knows you, values you, sees quality in you and you see quality in them. What can you be doing to help them get more leads, too? 
Help others and watch how you pay it forward. There will be benefits for you, too.
8. Be an influencer
I coach a lot of salespeople, and one of the things that I've noticed is as they become more and more of a top performer, they are seen more and more as an influencer in their space. 
Does being a top performer precede becoming an influencer, or does being an influencer precede being a top performer? I don't know. I don't care, but it's amazing how the two go hand in hand. 
Are you participating in association events? 

Are you participating in industry activities? 

What are you doing there to really help and be seen? 

For the content you're putting out on LinkedIn, are you adding commentary that's allowing people to see your expertise? Are you adding pieces of information? 

Are you helping others? 
That's how you become an influencer.
9. Qualify everyone
Don't allow a lead to make any progress until it's qualified. You have to have a qualification process. When people come to me with a clogged pipeline, it is invariably clogged because they've allowed stuff to get in there that really has no reason to be in there.
Instead, qualify everyone early on and don't allow people who don't measure up to the criteria. 
Read more about how to know if a lead qualifies as a prospect.
Having great leads can facilitate a healthy, efficient pipeline. However, you and I know that
so much more
goes into it than that.
That's why I developed this month's masterclass around Filling Your Sales Pipeline.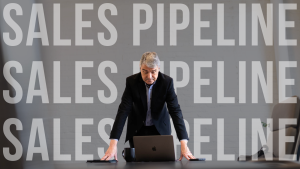 This course dives into every step from leads, to qualifying prospects, to follow-up and making your offer. I've even included helpful checklists for before you call a prospect, how to qualify a lead, and before you make your sales offer. 
I know you'll find the 14 videos engaging, and the 32-page workbook helpful and eye-opening. I designed it to help you identify weaknesses, and capitalize on your strengths. But we won't leave it there–you'll finish with clear steps to take your prospecting to the next level and revitalize that pipeline. 
Don't forget, if you enroll now, I'll invite you to my exclusive webinar only for those that buy this course. Learn my inside secrets on how I keep a full pipeline on November 4th at 2:00 CT. 
Level 3 Members of The Sales Hunter University already have access to this masterclass course, and EVERY masterclass I've ever taught! To learn more about this opportunity, click here.
A great new resource, available now!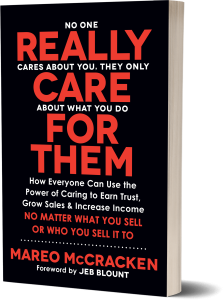 "The true secret to success in sales is caring. Caring for others, caring for results, caring for growth. Those who care the most, sell the most."
Really Care For Them is for those who want to learn to do sales the right way with the most success as fast as possible. It helps readers escape adversarial, competitive, self-destructive sales behavior by developing a collaborative, trust-based approach to selling in a way that builds value and trust. 
About the author: Mareo McCracken is the Chief Revenue Officer at Movemedical where he leads the sales, marketing, and customer success efforts. Prior to helping lead this Med Tech SaaS company, Mareo was the top performing salesperson at multiple companies in various industries including financial services, logistics, manufacturing, and commodities. 
Buy now on Amazon here!